Emergent Literacy At Nannyjay's House
A real life example of emergent literacy in music just a few weeks ago.
From Jill at jillsMusic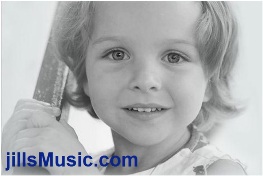 Hello Everyone

Baby SOH has started school this year, but I cannot think of a school-aged name for her at the moment, so Baby SOH it is. Baby SOH and I read "The Ants Go Marching" sing-along-book together. She happily joined in and raised her arms on Hurrah! Hurrah!

At the end of the book we had a look at the music notation for the song and I made a passing reference to all the dots being the "music for the song". That's really all I said.

Over time, I have made similar references to music notation incidentally in songs.

Later in the afternoon, I noticed Baby SOH drawing in her note book. She said "This is MY song", and referred to the colour blocks on the page.

The next time I looked, she had written the music notes you can see in the image, without any suggestion from me. And she sang HER song to me (although I cannot remember it) – she sang it twice.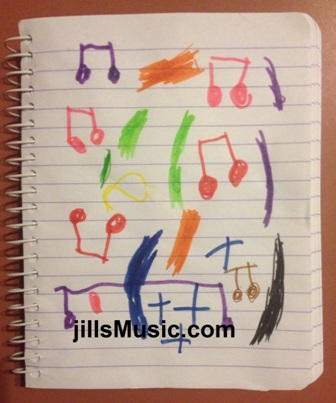 Positive, Meaningful, Musical Learning
This is a wonderful example of the way children learn about many things, including music in positive, enjoyable, meaningful moments that naturally occur during the early childhood day, both at home and in the early childhood centre.

Adult-child interaction, engagement and modelling with significant adults promotes long term musical learning, rather than rote learning in artificial teaching scenarios which can be easily forgotten.
Musical Play Lays Music Foundations For Life.
From Julie Wylie, Music Therapist and Internationally renown Early Childhood Music Specialist, New Zealand: Musical play with babies and young children lays the foundation of music for life. It fosters a child-centred approach, fostering self-esteem, thought and creativity. It engages emotions and supports relationships. Musical play promotes attention, arousal and provides regulation and calm. Much of the brain is involved when children and adults engage in musical play. (The Art of Musical Play, Kodaly Sydney Workshop, Penrith, February 2012). Find out more about how to promote your child's musical learning, confidence and self esteem with meaningful musical moments which you and your children can share together ANYWHERE ANYTIME. That's real life learning in early childhood.

Contact Jill, through her website, subscribe to her newsletter, or read her Nannyjay blog.

GOOD NEWS IS WORTH SHARING WITH A FRIEND. PASS THIS NEWSLETTER ON TODAY!




Warm regards,
Jill Holland
music that supports, connects and empowers families
Website: jillsMusic.com
Blog: NannyJay & BabySOH - Wordpress Blog A Grandmother and Grandchild's musical journey together.
MusicalMomentsNOW training for early childhood staff 9484 7226